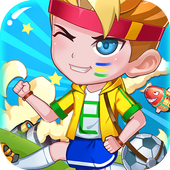 Bomb Heroes APK Download
Download Bomb Heroes APK Securely From Androidest
---
---
Bomb Heroes Details
Unleash a thrilling parabola shooter adventure that challenges you to aim at and bomb enemies with proficient shooting skills. Fight to become the super bomb shooter in Bomb Heroes now!
Bomb Heroes let you team up and communicate with your friends via instant voice, to fight against the world bosses through mysterious fortresses. Personalize yourself with various outfits as well as sharp mounts to be the brightest legend shooter. Meeting with your life love and training lovely pets on this adventure just color your life!
Aim at, and shoot it then bomb blows up!

EPIC ONLINE BATTLES
- Awesome PVE on 300+ plot maps to challenge yourself
- MMO PVP battles with millions of online players around the world
- Turn-based MMO shooter gameplay with RPG elements
FASHION STYLES
- Hundreds of cute pets as your loyal accompany to grow up
- 300+ outfits as well as weapons for your personalized dress
- Sharp mounts to enhance your ability to win battles
MAKE FRIENDS AND ENEMIES
- Challenge other bombers in local and cross-server arena wars
- Solid guilds with friends to strengthen your heroes
- Romantic marriage with your life love in this exhilarating adventure


Contact Us:
Like us on Facebook to stay updated and get special rewards:
https://www.facebook.com/bombheroes
E-mail: bombheroes@gmail.com

Hey guys, bomb me! Have fun playing Bombs Heroes!
---
Bomb Heroes for Android official Trailer
---
---
Category
Free
Action
game
Requirements
Android 4.0.3+
Package Name
com.wyd.gplay.bombheroes