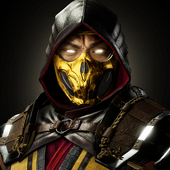 MORTAL KOMBAT APK Download
Download MORTAL KOMBAT APK Securely From Androidest
---
---
MORTAL KOMBAT Details
Experience the over-the-top, visceral fighting of MORTAL KOMBAT X!
Bring the power of next-gen gaming to your mobile and tablet device with this visually groundbreaking fighting and card collection game.
Assemble an elite team of Mortal Kombat warriors and prove yourself in the greatest fighting tournament on Earth.
BRUTAL 3 v 3 KOMBAT
Create your own team of Mortal Kombat fighters and lead them into battle to earn experience, new special attacks, and powerful artifacts.
MASSIVE ROSTER OF FIGHTERS
Collect Mortal Kombat veterans like Scorpion, Johnny Cage, Sub-Zero, Sonya, Kitana, Ermac, and many others.  Discover the newest additions to Mortal Kombat such as the insect-like D'Vorah, fiery Cassie Cage, bloodthirsty Kotal Khan, and the mysterious Kung Jin.
JAW DROPPING X-RAYS AND FATALITIES
Mortal Kombat X brings its trademark Fatalities and X-Rays to mobile, with stunning graphics, these over the top moves punch you right in the guts.
CHALLENGE OTHER PLAYERS
Compete with other players in Faction Wars, an online competitive mode where players engage other player teams.  Rank up in your own Faction's leaderboard to earn weekly prizes.
SUMMON ALLIES INTO BATTLE
Find other players to be your Ally. Borrow a kombatant and strike a decisive blow against your enemies.
UNLOCK REWARDS IN BOTH THE CONSOLE AND MOBILE GAME
Play the game and unlock exclusive rewards for the console version of Mortal Kombat X, including ultra rare characters like Klassic Kitana and Injustice Scorpion. Playing the console version unlocks rewards in mobile as well.
NOTICE:
* Mortal Kombat X features high quality visuals. Performance is not optimized on devices with less than 1GB RAM.
** A minimum of 1.5 GB of free space is required on your device.
Content is generally suitable for ages 17 and up. Contains intense violence, blood, and gore.
Q1. Connection Error Problem: Failed to Get Online Profile
If you are receiving the error "Connection Error: Failed to Get Online Profile. Would You Like to Retry or Continue With Your Current Offline Profile" please try the following:
First, try pressing "Retry" a few times. You may be able to connect normally if you try again. If this fails, try the following:
1.Click the Menu button
2.Select "Profile"
3.Select "Change WBID"
4.Click the "Don't have a WBPlay account?" button
5.Fill out the form with your existing WBID email address and password
6.Agree to the Privacy Policy and Terms of Service by checking the box for it
7.Click "Sign up using your email" again
8.You'll receive a message asking you if you would like to associate your save with this WBID, select Yes
9.If you do not receive a success message, click "Sign up using your email" again and then Yes again when prompted.
If these steps do not work, you can resolve the issue be reinstalling the game and logging back into WBID but in doing so you may lose any save progress you have made while playing Offline.
 Q2. How do I change my Profile name in MKX Mobile?
Your display name is how other players will identify you. You can change your display name by going to Menu > Profile > Change Profile name.
 Q3. How do I create or restore a cloud save in MKX Mobile?
To create a Cloud save you will need to be logged into WBPlay/WBID via the Profile tab in-game. Once you are logged into WBPlay, your Cloud save will be updated every time you play a match or perform another major action in the game.
To restore a Cloud save after reinstalling the game or installing it on a new device, simply log into the same WBPlay/WBID account you were previously using for the game. If a save is associated with that WBID you will be given the opportunity to download it again.
Please note that downloading a WBPlay save will erase the current save data on your device. Make sure that you do not mind losing Card Kollection you currently have on your device before attempting to download a Cloud save.
---
MORTAL KOMBAT for Android official Trailer
---
---
Category
Free
Action
game
Requirements
Android 4.4+
Package Name
com.wb.goog.mkx