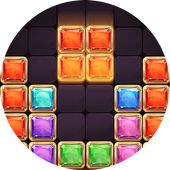 Block Puzzle Jewels APK Download
Developer

SUPER EXPERT

---

Newest Version

1.1.5

---

Publish Date

Jan 8, 2019

---
Download Block Puzzle Jewels APK Securely From Androidest
---
---
Block Puzzle Jewels Details
A dwarf who is hunting for treasures in the jungle saved a butterfly caught by spider web.But he did not expect butterfly to become a fairy! To repay him for saving her life, the fairy helped dwarf to realize three wishes in return. After that, the dwarf got three artifacts and found the endless gems.
"A compass that can detect lodes no matter how hidden they are"
"A hammer that can smash rocks no matter how hard they are"
"A bag that can fill in gems no matter how many of them"
In the dictionary of the dwarf, there is no such thing as "cannot put down".

Block Puzzle Jewels Legend is a classic square puzzle puzzle elimination game, which is a game of pictures, animations, music, sound effects, operability and artistry. Suitable for people of all ages, from young children to adults.

[How to play]
Place the three gems tiles that appear in each round into the box. When a row or a row of gems are placed horizontally or vertically, the gems are eliminated and scored. Continuous elimination of gems can gain a score bonus.
Try to connect the tiles in a way that doesn't have spaces, eliminating as many gems as possible, so that the new round of gems can't fit into the dwarf's "pocket."

[Game Features]
Casual puzzle, suitable for all ages.
Free games, unlimited play.
The style is gorgeous and the special effects are dazzling.
The game is poisonous, you can't stop it, you can't stop it.
Light game, easy and easy to use, double the record.
Anytime, anywhere, want to play, play, sleep, eliminate gems! Line up, take the car, eliminate the gems!
It is suitable for children to develop their brains from the direction of mathematics, logic and graphic recognition, and to teach young children.

Invite your friends to challenge the limits together to see who has a higher score!
---
Block Puzzle Jewels for Android official Trailer
---
---
Category
Free
Puzzle
game
Requirements
Android 4.1+
Package Name
com.superexpert.blockpuzzle