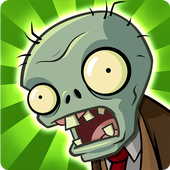 Plants vs. Zombies FREE APK Download
Download Plants vs. Zombies FREE APK Securely From Androidest
---
---
Plants vs. Zombies FREE Details
Get ready to soil your plants as a mob of fun-loving zombies is about to invade your home. Use your arsenal of 49 zombie-zapping plants — peashooters, wall-nuts, cherry bombs and more — to mulchify 26 types of zombies before they break down your door.
This app offers in-app purchases. You may disable in-app purchasing using your device settings
WINNER OF OVER 30 GAME OF THE YEAR AWARDS*
50 FUN-DEAD LEVELS
Conquer all 50 levels of Adventure mode — through day, night, fog, in a swimming pool, on the rooftop and more. Plus fend off a continual wave of zombies as long as you can with Survival mode!
NOT GARDEN-VARIETY GHOULS
Battle zombie pole-vaulters, snorkelers, bucketheads and 26 more fun-dead zombies. Each has its own special skills, so you'll need to think fast and plant faster to combat them all.
SMARTER THAN YOUR AVERAGE ZOMBIE
Be careful how you use your limited supply of greens and seeds. Zombies love brains so much they'll jump, run, dance, swim and even eat plants to get into your house. Open the Almanac to learn more about all the zombies and plants to help plan your strategy.
FIGHT LONGER, GET STRONGER
Earn 49 powerful perennials as you progress and collect coins to buy a pet snail, power-ups and more.
GROW WITH YOUR GAME
Show off your zombie-zapping prowess by earning 46 awesome achievements and show off your zombie-zapping prowess.
COIN PACKS
Need coins for great new stuff? Buy up to 600,000 coins right from the Main Menu.
*Original Mac/PC downloadable game.
Q1: Plants vs. Zombies "Hang" on the startup screen.
It can be caused by many things, such as game update, connection issues or a failed game resume.
To fix not starting up problem, perform a hard restart. Hold the power button for 10 seconds while the system is on. The system will turn off. Hit the button again, it will start and display the green start-up screen. Don't worry, your data will be preserved but cache and some settings are reverted and log-in or game start issues are resolved.
Q2: Character Data Reverts to Level 1
Character data is stored in the cloud and is only available when you're LOGIN. Before making the connection, your character will display as Level 1.
If the problem persists even after signing into Google Play, the next best step is to restart the game.
Q3: Stuck in Empty Tutorial Level
If you cannot connect with other players and are instead stuck in a level that lets you choose a base character and shoot the occasional zombie, you're actually in the game's Tutorial mode. This mode appears when the game isn't done installing or when an update is being applied.
Once the install is at 100%, you will automatically exit the tutorial stage and get to the main menu.
Q4: Initial Loading Issues
After loading into a match, the game will need additional time to fully load textures and sync with the actions of other players. This does not mean you aren't able to play, however; it just means your game needs to finish loading.
You may be misled missing components and other players' actions aren't correctly displaying. But you can still be shot so please be careful when this happens.
---
---
Category
Free
Strategy
game
Requirements
Android 4.1+
Package Name
com.ea.game.pvzfree_row