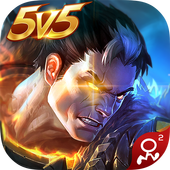 Heroes Evolved APK Download
Download Heroes Evolved APK Securely From Androidest
---
---
Heroes Evolved Details
Welcome to Heroes Evolved - a carefully balanced and fiercely competitive, but fair mobile battle arena experience, full of action & strategy for true gamers. Select from a pool of 50+ unique heroes and jump into teams - Eternals vs. Ancients - to battle against real rivals on gorgeous fantasy maps. This game will take all your skill, teamwork, cunning, and strategy to survive and succeed!

Grab your device and dive straight into combat with stunning graphics and seamless animation. Heroes Evolved is a unique game of depth and complexity, allowing you to piece together your own strategic and unpredictable advantage using fog of war, terrain, unique hero attributes, and custom gear builds. Be a stalwart tank character with healing abilities. Become a devastating rogue attacking from the shadows. Bombard enemies from afar with powerful spells & abilities, or assume the role of Bruce Lee, the legendary Kung-Fu master - the choice is yours! No two games are ever the same! Play competitively, or just have fun in Chaotic Strife mode, a rotating selection of fresh and crazy game rules - Heroes Evolved has something for everyone.


Prove yourself in the online battle arena that is Heroes Evolved!



★★★ GAME FEATURES ★★★

● Enjoy the depth of a fully fledged, classic PC MOBA experience right on your phone - anytime, anywhere!

● Choose from 50+ unique playable characters, such as the master of Kung-Fu: Bruce Lee!

● Quick matchmaking - Battles designed for short burst game-play sessions.

● Multiple Playmodes - Choose between super serious and super whacky playlists depending on how you feel!

● Clan System - Form a clan with your friends to unite under one banner, and make a name for yourselves online!

● Expansive gear list - Allowing for true customization for each of your heroes.

● Revolutionary controls - Unleash your skills & abilities with deadly precision.

● Multiple language support - Including native implementation of EN, FR, DE, ES, PT, RU, ID, TH & more coming all the time!

● No Pay 2 Win! - Carefully balanced mechanics to guarantee you a fair game.

● Join thousands of other players across the globe for instant action and fun!


------------------------------------------------------

- Facebook: fb.com/HeroesEvolvedMobile
- Support: mobilesupport@r2games.com
---
---
Category
Free
Strategy
game
Requirements
Android 3.0+
Package Name
com.rsg.heroesevolved